Make Your Home Your Castle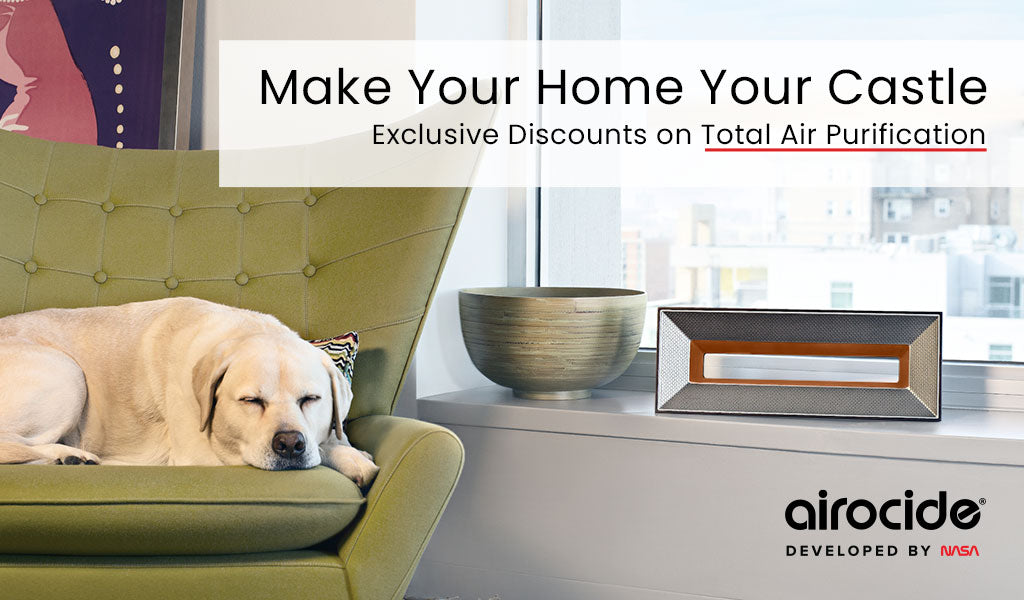 For a Limited Time Only: Exclusive Discounts on Powerful Air Purification 
Right now is your opportunity to get a complete Airocide air purification package at a special discount! Our Total Protection Pack can provide thorough coverage for many homes, and it's completely configurable. Protect your home like it's your castle, all you need to do is choose 6 or more units and reach out to our air purification experts before checking out. Here are our recommendations for building your own Total Protection Pack!
The Basics - How to Build Your Pack: 
We're making our recommendations based on a home that's about 3,000 square feet with a basement, but your home doesn't have to fit that mold at all! Take a look at these suggestions, then modify your pack based on the dimensions of your own space. If you have any trouble picking units that are right for your space, we're happy to help - give us a call or send us an email to speak to an expert.
Main Living Area
Whether it's a living room, family room, den, or some other large space - it's where your family and friends gather most often. Usually, these are open spaces - so we recommend a unit that can handle large volumes of air. Install an APS-1000XL to ensure your living space is completely covered. The 1000XL is a unit with extra catalyst space, meaning it can process much more air than a smaller purifier can.
Bedrooms
Your bedroom is your sanctuary, so the air in it should be well-protected. Ensure that with the APS-200 PM 2.5. Operating an APS-200 PM 2.5 unit in every bedroom ensures that not only are bacteria and viruses eliminated, certain dangerous microscopic particulates are too. PM 2.5 refers to the air-quality impacting particles produced by construction, wildfires, and everyday activity. These units are designed specifically to stop PM 2.5!
Kitchen/Dining
High-traffic and prone to odors, the kitchen and dining room are ideal spots for APS-300 units. This unit can help control odors because, like all Airocide units, it eliminates volatile organic compounds - or VOCs. VOCs can come from smoke, cooking steam, vegetables and fruits, and - of course - regular kitchen trash. Protect your family from bacteria and viruses, and manage the smell of these high-traffic areas, it's a win-win.
Basement
Whether it's for storage or a fully-finished entertaining space, your basement needs coverage as well. An APS-1000 unit is ideal for the basement - it has a smaller processing volume than the 1000XL, but it has the added protection of our two-stage purification process. That means that these units block PM 2.5 as well - including mold and mildew, a concern in spaces where air circulation may not be as easy as upstairs.
Create Your Own Bundle - Get a Great Deal
Create a Total Protection Package that fits your family's needs by adding six or more of these items to your cart - then contact us for details on a special discount. You could provide protection to your whole home, 24/7 - it's simple and effective with Airocide.